Episode#006 NADT- Powder Ridge Whitetails, The What and How.
Fellow Deer Rancher Jarrid Barry from PA joins us at NADT to discuss his operation and the future of his Cervid ranching business. We talk everything from his deer farm and genetics to plans to build and thriving hunting operation in PA.
You can reach Jarrid through his Facebook page
https://www.facebook.com/pages/Powder-Ridge-Whitetails/121751117917387
or by Phone at 717-821-0669
Check out Cervid Solutions membership program, Save Big Money on Products and services
http://cervidsolutions.com/member-benefits
Today's Show Sponsors-
Applied Reproductive Concepts (ARC)
Offering Specialty reproductive services to the Cervid Industry and beyond. Contact Dr. Weiss today raweiss01@gmail.com
Pneu-Dart Inc.
Offering Remote drug delivery systems to the cervid Industry for more than 48 years. Take a look at their product of the week.
– Product of the week-
Pneu-Dart X2™ Gauged CO2 Short Range Projector
The X2™ is the most innovative and practical gas-based Short Range Projector. Constructed of durable 6061 machined aluminum and coated with a sharp, elements-resistant anodized finish, the X-2 is the finest and most versatile Short Range Projector ever built.
Made in America, the X-2's sleek design possesses a variety of features, including a rotating rear barrel port engineered for quick and efficient RDD Device loading.
– Protective gauge housing
– Rotating rear barrel port for quick loading
– Fingertip muzzle velocity control
– Rifled 14 inch fluted stainless steel barrel
– 12 gram CO2 air source (6 shots/cylinder)
– Virtually silent dart propulsion
– Limited lifetime warranty
Click below to learn more about the X2™ Gauged CO2 Short Range Projector
http://shop.pneudart.com/gauged-projectors/x-2-gauged-co2-short-range-projector/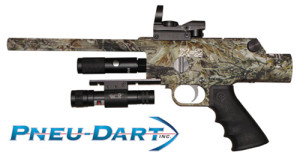 Podcast: Play in new window | Download (33.8MB)
Subscribe: RSS