North American Deer Talk welcomes our newest sponsor Whitetail Exchange! Today we have Todd Morgan on the show to talk all things Whitetail Exchange.
Whitetail Exchange is an online auction that deals with everything Deer Farmers need for their farm. Whitetail Exchange is open for business 24 hours a day 365 days a year. With nearly 3000 registered users, Whitetail Exchange is by far the largest online deer auction in the industry. Semen, Live Animals, Embryos and every type of equipment are all available on the site. Selling items on the site is very easy and if your item does not sell, no fees are charged. With competitive commissions of 10% and a $500 commission cap, many deer farmers choose to use Whitetail Exchange for all of their farm sales.
Whitetail Exchange has many advertising opportunities available to any size farm at very competitive rates. With over 1200 visits per day, Whitetail Exchange is definitely the hottest Whitetail Deer Farming site on the internet.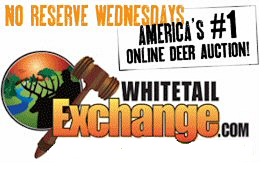 Podcast: Play in new window | Download (41.4MB)
Subscribe: RSS