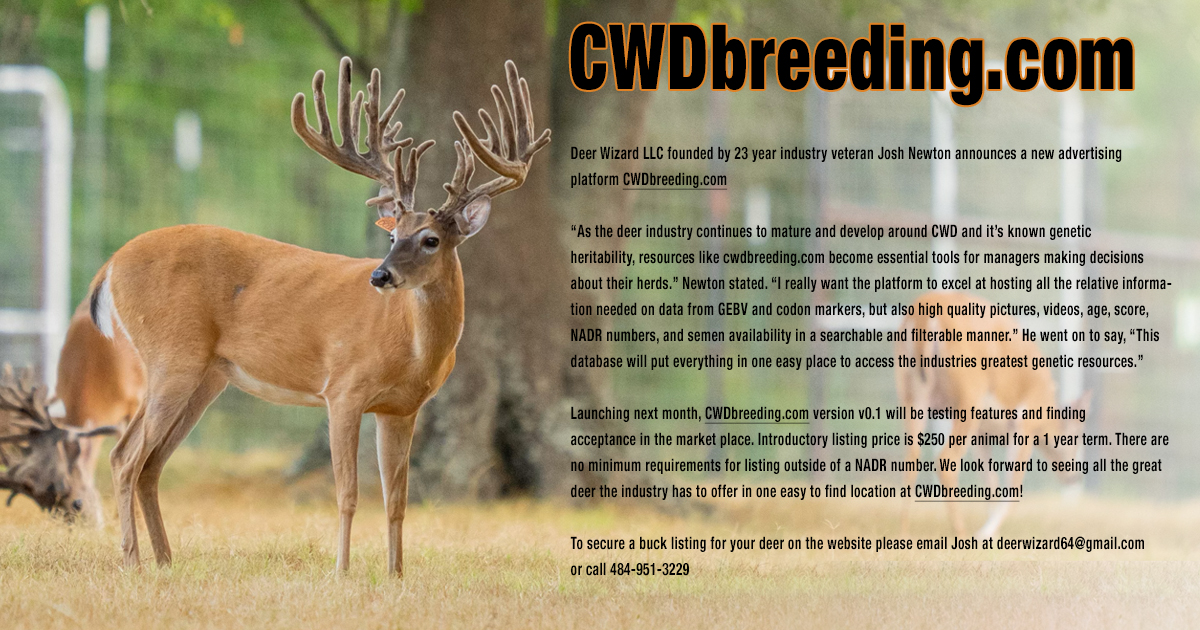 If you're new welcome, if not, welcome back!
We have a big announcement on North American Deer Talk today.
Deer Wizard LLC founded by 23 year industry veteran Josh Newton announces a new advertising platform CWDbreeding.com
"As the deer industry continues to mature and develop around CWD and it's known genetic heritability, resources like cwdbreeding.com become essential tools for managers making decisions about their herds." Newton stated. "I really want the platform to excel at hosting all the relative information needed on data from GEBV and codon markers, but also high quality pictures, videos, age, score, NADR numbers, and semen availability in a searchable and filterable manner." He went on to say, "This database will put everything in one easy place to access the industries greatest genetic resources."
Launching next month, CWDbreeding.com version v0.1 will be testing features and finding acceptance in the market place. Introductory listing price is $250 per animal for a 1 year term. There are no minimum requirements for listing outside of a NADR number.
We look forward to seeing all the great deer the industry has to offer in one easy to find location at CWDbreeding.com!
Enjoy the show and remember to follow us on our other platforms
Instagram- https://www.instagram.com/cervid_solu...
Facebook- https://www.facebook.com/cervidsolutions https://www.facebook.com/groups/71678...
Show Sponsor- C&E Wildlife products- http://www.cewildlife.com/
Cervid Solutions- http://www.cervidsolutions.com/
Podcast: Play in new window | Download (15.0MB)
Subscribe: RSS